Image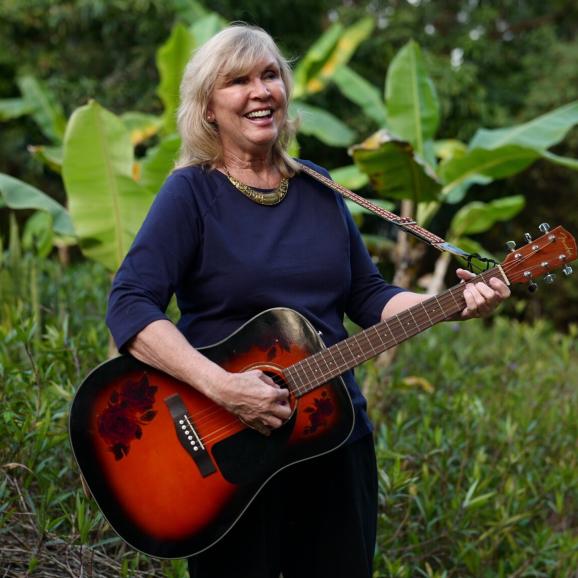 Carlene Thissen
Carlene Thissen has been singing all her life but only started writing music about 10 years ago. Since she started, she has released three albums: Spring Rain, Roses in the Sand, and Perfect Blend. Her musical style is a combination of Folk and Country, with a little bit of Blues thrown in. She writes both secular and Bible-inspired music.

Carlene was raised in Northwest New Jersey in Sussex County (beautiful farmland) and resides today in Naples, Florida. She has been a regular performer at the Island Hopper Songwriter Festival since it began. She loves the casual environment and beautiful restaurants and other venues.

Besides her father, who taught Carlene and her sisters to sing at early ages, Carlene's voice was influenced by Joan Baez, Judy Collins, and Joni Mitchell, as well as her favorite songwriter, Bob Dylan, as she learned to play guitar in the 1960s. She performs shows, including "Judy, Joni & Joan," a historical look at her three female idols, illustrated by her singing many of their songs.

Carlene attended the 1969 Woodstock Music & Art Festival and describes the experience as the best three days of her life. Several of her original songs were inspired by her experiences at Woodstock. One yet unreleased song came from attending the 50th anniversary at Bethel.

Carlene also receives inspiration from a nearby agricultural community called Immokalee and has written not only music, but books, about this multi-cultural small town. She is connected to Immokalee in many ways, including singing at the English Mass at Our Lady of Guadalupe Catholic Church and teaching the supervisors of farm workers at the University of Florida's Research & Education center there.

Carlene performs several times a year with the Southwest Florida Americana Community Music Association, as well as at private homes, clubs, restaurants, theaters and other Southwest Florida venues. She is an active member of the Female Musicians Academy and Nashville Global Songwriters Connection.