Image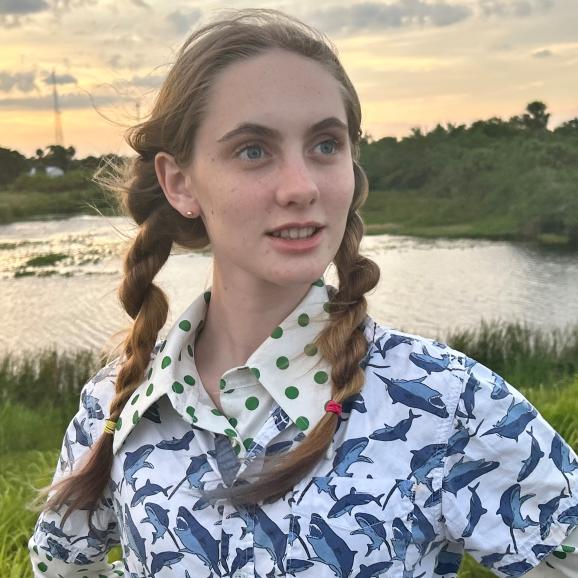 Spring Pace
Spring Pace is a 13-year-old singer, songwriter, and piano player -- and the winner of the People's Choice Award at the 2023 Sounds of Summer Singer Songwriter Competition.
Born and raised in New Orleans, Spring began her musical journey at age 7 in the New Orleans Citywide Youth Choir under the direction and mentorship of Tonya Boyd-Cannon. This amazing affiliation gave her invaluable experience performing in the best venues of the city, such the Historic Saenger Theater and the New Orleans Jazz and Heritage Foundation, as well as guest sets at Jazz Fest and an impromptu scat session at Gumbo Festival. She was also one of only 5 children selected to sing back-up vocals on the Soul Rebels track, "Down For My City" featuring Cheeky Blakk among a host of musical luminaries representing the Big Easy.
By age 9, in the midst of the isolating pandemic, she started writing songs in earnest. Her first, a song of longing and loneliness called, "Dragons" set the stage for the wellspring of truly original and captivating music to come. Spring's songs have a depth of emotion and sophistication unusual for someone so young, tapping into the beautiful struggle of human existence and moving devoted fans of all ages. She continued learning piano and moved from the busy city to pastoral Arcadia, Florida.
Before Hurricane Ian blew in and destroyed her beloved piano and new home (while she was still in it), she was composing and compiling her first album. Post storm, she persevered and continued developing her music while living in five different living situations, including 10 weeks in a shed. Her dream of recording her music before her 13th birthday came true when she tracked 10 of her original songs with music engineer Misha KachKachishvili at Esplanade Studios in New Orleans.
Spring's talent on the stage also veers into the dramatic arts, moving audiences as Talulah in "Bugsy Malone" at the Punta Gorda Performing Arts Center and Ms. Minchin in "The Little Princess" at the McSwain Art and Cultural Center, as well as being the comedic host of the original family musical "Homespun Vaudeville". She is also a spectacular voiceover actor, having voiced the audiobook for Seth Eliot Santoro's "Finn and the Ferocious Flu".
She currently lives in a temporary trailer with her parents, her keyboard, and her cat, Willie. She is grateful to be alive and can't wait to share her music with the world. Follow Spring on Instagram @hellospringpace for pictures and updates on the release of her debut album.